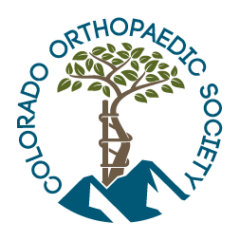 Colorado Option bill passes out of first House Committee
Legislative update from COS President Gary Ghiselli, MD

Legislative update… Unfortunately, our efforts to effectively change the bill were not included in the bill that passed out of the house committee yesterday. As a result, the bill still has mandatory participation for physicians and rate setting in the form of a payment floor set at 135% of Medicare for providers. Mandatory participation would kick in if the health plans tell the state they are unable to provide network adequacy. In addition, the mandated reduction in premiums set to trigger the new Colorado Option health plan has moved from 20% over two years to 18% over three years. There remains strong opposition to the bill from all physician groups except for the Colorado Academy of Family Physicians who are happy with the 135% of Medicare payment floor and don't seem to have a problem with the concept of mandatory participation by physicians. This is really unfortunate as bill sponsors can use this to show some support from physicians for the bill. In exchange for increasing their payment floor to 165% of Medicare and other amendments, the Colorado Hospital Association (CHA) moved their position to neutral on the bill. Notably, HCA (HealthONE) and UCHealth broke from CHA's position and remain strongly opposed to the bill. In exchange for keeping mandatory physician participation in the bill and other amendments, the Colorado Association of Health Plans (CAHP) moved their position to neutral on the bill. Notably, United HealthCare and Kaiser broke from CHA's position and remain strongly opposed to the bill. Bill sponsor Dylan Roberts, (D-Avon), acknowledged before the committee that physicians were still unhappy with the bill and made a commitment to work with us to amend the bill before it is voted out of the House. Reluctantly, Democratic Representatives Kyle Mullica (RN) and Yadira Caraveo (MD) voted yes to get the bill out of committee on a party line vote. However, they said that the bill sponsor has to continue to work to protect the physician community and fix the bill.

Our lobbyist spoke with Rep. Roberts to underscore how the bill shows a lack of appreciation for physicians who have battled Covid-19 and are still financially stressed by keeping mandatory participation and rate setting in the bill. He also warned of the danger these provisions chasing physicians to other great mountain states like Utah. Lastly, he asked Rep. Roberts if he would rather a hospital or health plan executive make the decision about his health care or that a fairly compensated physician make that decision. This conversation seemed to resonate with Rep. Roberts.

The next 72 hours will be telling to see if a final compromise can be reached. Any proposed amendments will be discussed as the bill moves to the House appropriations committee on Friday and will be added on the House floor (most likely next Tuesday). On Wednesday or Thursday, the bill will likely move to third reading which is an electronic vote to pass the bill out of the House. With a 41-24 Democratic majority and strong pressure to support what is clearly a top legislative priority for Gov. Polis, it is unlikely we can stop the bill in the House.

Once the bill moves to the Senate, the whole process begins again and there will be another opportunity to testify and advocate for physicians. This will be our best chance to stop the bill if it still hasn't been amended to our satisfaction. The Democrats only have a 20-15 majority in the Senate which means that we will only need one vote in committee or three votes on the floor to stop the bill.

Your Colorado Orthopaedic Society is also working with the Colorado Medical Society and other medical specialty societies to seek legal support from AAOS, the AMA, and other national organizations for our position that mandatory physician participation and rate setting is unconstitutional. This argument has helped in lobbying against the bill in the House and could be instrumental in stopping it in the Senate.


There is no recommendation for action right now. Until all negotiation with the House sponsors has ended and the bill is in its final form, bill sponsors can resist pressure from their colleagues by saying that amendments are coming that will fix the problem. Soon, legislators will have to choose between supporting quality patient care delivered by Colorado physicians who are treated fairly or voting to give insurance companies more power over patients and physicians to make health plan executives wealthier. When the time is right, I will be reaching out with tools for you to help in an all-out effort to kill or amend the bill in the House, the Senate or both.

I appreciate your continued support,
Gary
Need PPE? Order through ActionPPEOrder your next round of PPE through ActionPPE.org, which has partnered with the Colorado Medical Society to give Colorado physicians and practices access to medical-grade PPE supplies. Available products are KN95 or disposable tri-fold masks, disposable gowns, face shields, gloves and hand sanitizer. Place your order through the order form here — actionppe.org/3/cms/ — and share this link with your colleagues. Use discount code cms-save5 for 5 percent off all orders through the link above.